If your photography travels this winter will take you down a trail or up a mountain, here's a short summary of winter footwear for both warmth and safety.
Winter boots are also known as snow boots or pac boots. These are designed for walking, snowmobile, hunting, snowshoeing, etc.  The fit is typically loose and comfortable.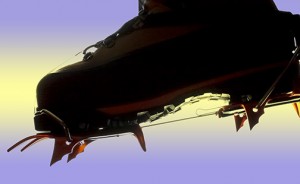 Mountaineering boots are very stiff and the soles have little or no flex.  The biggest reason for this is to allow the use of crampons. Truthfully, most mountaineering boots are designed with emphasis on ice climbing, to the detriment of walking comfort. Most feel rather big and clunky (like the shoes of television character Herman Munster). Some have a plastic shell much like ski boots. Perhaps the most important thing to know is that not all "winter" mountaineering boots have insulation for warmth.
Some insulated boots can have insulation that is removable; some don't. If you intend to do any winter camping, choose boots with removable insulating liner. Overnight, keep the liners close to your body so they don't freeze up.
Insulated mountaineering boots range in price from $250 to $850. However, it is not impossible to score a pair of boots on sale for under $200. You can also get used boots at stores that accept trade-ins.
Crampons (pointy metal teeth that attach to the bottom of your boots) are most often designed for ice climbing, but some are designed for trekking (hiking/walking). Crampons for climbing typically have 12 points (teeth), though some have 14. Trekking crampons typically have only 10 points.
Not all crampons fit any boot. Crampons attach to your boots either via straps or a metal bar at the front and rear. Straps can be attached to just about any winter boot or mountaineering boot. However, it is important to note that some crampons have more flex than others. If you plan to use crampons on non-rigid winter boots, look for strap-on crampons that have a good deal of flex in the middle.
"Step-in" crampons clamp onto your boots with a metal bar or clamp at the toe and heel, requiring mountaineering boots designed for this.  See the photo attached to this post. 
Some "hybrid" crampons (also called semi-step) have a metal bar/clamp at the heel and a strap at the toe.  But as with full-step-in crampons, your boot must have the proper design to accept this type of crampon.