A picnic this week provided opportunity for my fIrst test drive of the Panasonic Lumix G3.
I am very pleased with the ease of use and the image quality. I was super impressed by the face-detection auto-focus and the LCD-touch-screen focus selection.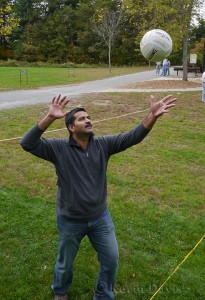 Shown here is my favorite shot, Balasankar dishing up a nice overhand serve.  As you can probably guess, I am holding the G3 over my head for this shot.  An articulated/swivel display screen is very helpful for overhead shots and also down-on-the-ground shots.  I quickly learned to love this feature on the C-5060 (very few cameras had this feature back in 2004/5) and I absolutely required it for a replacement camera. The 3-inch swivel-touch-display on the G3 is a sweet upgrade.
ISO 800, f\6.3, 1/800 sec, auto white-balance
Shot as JPG  (not RAW)
(click the image for a larger view)
And here are a couple more shots with the same 14mm lens (equivilent to a 28mm on a full-frame DSLR).