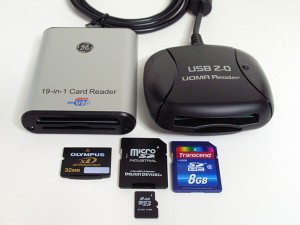 The two most common types of memory cards are Compact Flash (CF) and Secure Digital (SD).  Compact Flash was first introduced 15 years ago and is still used in many new cameras.  SD format is physically smaller and is more suitable to smaller cameras.  For larger cameras that can accomodate CF, some people find that the larger size of CF cards is easier to manage. Many SD cards today will actually be SDHC (Secure Digital High Capacity).  If you have an older camera, be careful to read the camera specifications to understand if you can use SDHC cards. 
From a technical perspective, both CF and SD/SDHC have evolved to offer increasing speed and storage capacity. In general, CF supports a maximum storage capacity 128 gigabytes. (The newest revisions can support far more.)  The original SD supports up to 4 gigabytes. SDHC supports up to 32 gigabytes. SDXC supports up to 2 terabytes (1TB = 1000GB).
The photo attached here shows three memory cards: xD, micro SD, and SDHC.  Micro SD cards are commonly used in mobile phones and come with an SD adapter, which is essential if you need to insert the card into a card reader. xD has been used by some Olympus and FujiFilm cameras, but both these vendors seem to be phasing out the xD cards in 2010 (see: http://en.wikipedia.org/wiki/XD-Picture_Card).  The xD card in this photo was taken from an 4-year-old Olympus camera that accepts both xD and SD cards.
Historically, Sony cameras have exclusively used a proprietary card type called Memory Stick.  This decision by Sony (to ignore standard card types such as CF and SD) has been a nuisance to camera buyers for a decade.  In a very significant and obvious change, new Sony camera models introduced in 2010 support both Memory Stick and industry standard SD/SDHC cards.
Not all cards are created equal.  Some memory cards will read or write faster than others.  The write speed can affect how fast your camera can save an image to the card.  Furthermore, if your card is too slow, it may not be compatible with some newer high-resolution cameras, that require high-speed cards in order to save fat megapixel images.  Before buying a memory card, I highly recommend that you check Rob Galbraith's memory card database (www.robgalbraith.com/bins/multi_page.asp?cid=6007). 
To copy photos from your camera, you have four options. Most cameras can connect to a computer via a USB cable. Doing so, the camera appears to the computer as a simple external storage device, just like a flash drive or external disk drive.  Altneratively, you can remove the card from the camera and use a card reader, connected to your computer.  If your camera is built-in to a cell phone or tablet, you may be able to send your images via email (possibly incurring fees for large amounts of data). Finally, some cameras support a wireless connection, such as BlueTooth.  For some cameras, wireless connectivity may be available via a camera accessory that must be purchased separately.
Not all memory card readers are equal.  In the photo shown here, both card readers connect to a computer via USB.  Both accept a variety of different cards.  The big difference between the two is speed.  One supports Ultra DMA and the other does not.  Be careful to read the fine print before purchasing a card reader.  Using a slow card reader can be frustrating, particularly if reading 8GB or more.
Lastly, a particular note regarding video cameras.  With the advent of newer memory cards offering both fast write speed and high storage capacity, video cameras have quickly moved away from magnetic tape storage in favor of memory cards.  Some cameras allow you to record for indefinite periods of time by providing two card slots and automatically switching when the current card becomes full.