In Tennesee, anybody can enjoy Great Smoky Mountain National Park at no cost.  There are no entrance fees and no parking fees.  Apparrently this was part of the deal when the land was acquired (from native American Indians).  And you can simply drive to the top of Clingman's Dome.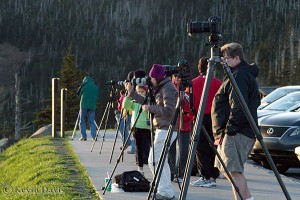 Any evening on Clingman's Dome, there can be a bevy of photographers lined up to photograph sunset. (Probably sunrise too, but I have not witnessed that.)
But as most photographers point their cameras toward the sun, they may miss out on some of the best scenes … which do not directly include the sun.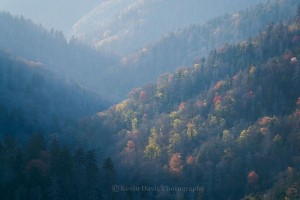 This image was shot with a micro-four-thirds camera (Panasonic Lumix G3) and captured as RAW.  While JPEG images have already been processed (by the camera), RAW images receive no processing.  In my experience, RAW images tend to look flat and require some post-processing (by me).  While this scene appeared well to my human eyes, the camera capture was very low contrast.  So the significant post-processing was to increase the contrast.