At a campground inside the Smokey Mountain National Park, there is no wi-fi or internet of any sort, no cell-phone service, and no 120v electric to plug-in anything.  So, at some point, I had to leave the park in order charge batteries, check email … and clean up with a warm shower.  (Actually, I did find one valid 120v electric socket hidden near the vending machines.)
A couple photos attached here from this morning.  As shown here, this is how the Smokies got the name.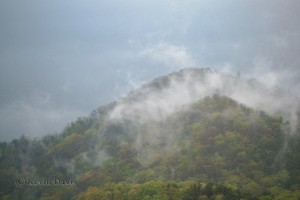 Each morning, the weather is unpredictable.  Rain during the night usually means clouds in the morning, but these can clear out rapidly.  This morning, the clouds did not clear out; but where the light is not putting on a show, the clouds sometimes do put on a show of their own.
(Click on an image for a larger view.)